Monthly Newsletter
In this edition, we highlight the release of AtomicDEX v0.3, a recent dPoW integration, a new oracle provider partnership, and much more.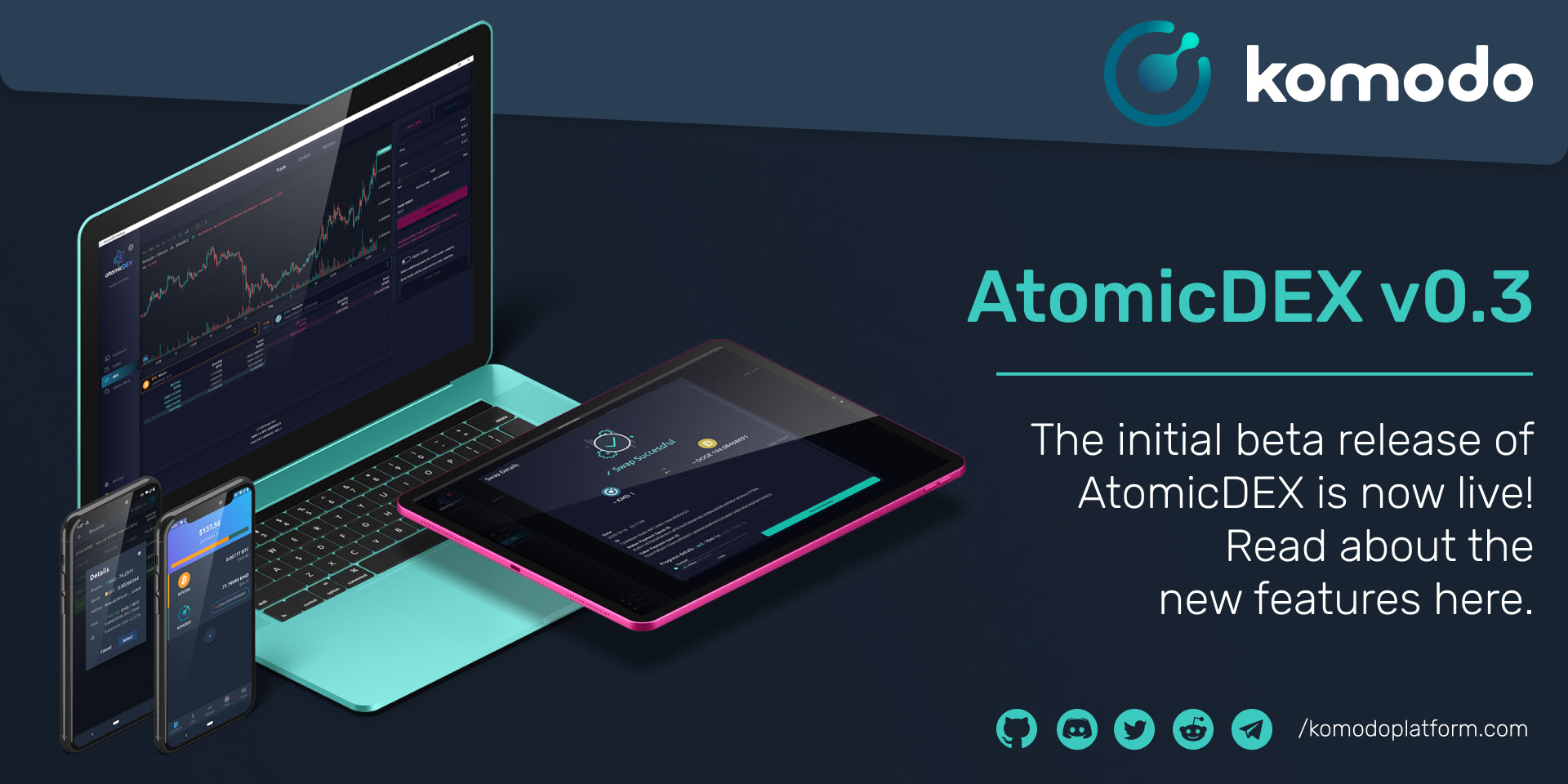 Komodo has just released AtomicDEX v0.3 (initial beta), marking the first milestone on the Komodo Q4 roadmap, and a major milestone of Komodo developer history.
Want to know about the top new features? Check out the blog post to learn more, and don't forget to download the latest version of AtomicDEX!
Read The Full Blog Post
November Preview
2020 Stress Test Campaign
Komodo developers have been working throughout 2020 to bring the ultimate user experience to AtomicDEX. The focus has been to enhance the GUI and to build a stable protocol that is capable of scaling up to increased user demand.
We will be running a public stress test campaign in November. Become a part of atomic swap history as we test the limits of the network!
More details about the stress test will be outlined in the coming weeks.
October Highlights
Band Protocol Partnership
Komodo and Band Protocol developers have worked together to establish a close, collaborative relationship. The initial result is the integration of 12 Band Protocol data pairs for AtomicDEX. Why did we choose Band as the first oracle provider for AtomicDEX? Read the full post to find out.
Gleec dPoW Inegration
The Gleec Coin network added defense against 51% attacks by integrating Komodo's dPoW security solution. Additionally, GLEEC is now available for non-custodial atomic swap trading and wallet storage on AtomicDEX v0.3.
Thursday Townhall Series
As part of Audo's new path clearing initiative, we are returning to our community roots. In October, we started a Thursday Townhall series — an hour-long Q&A session and open community discussion.
Have a question about Komodo? Drop them in the townhall-questions channel on Discord. Join the Townhall voice channel on Thursdays from 3PM to 4PM UTC to participate in real-time.
Don't have time to join the live event? We've got you covered. Thursday Townhall recaps are available on the Komodo blog.
Komodo Halloween Event
We hosted the first annual Komodo Halloween Event from 4PM to 10PM UTC on October 31. Thank you to all the participants who joined us. We reached 100+ active users on our custom Rick and Morty Halloween portal created specifically for this event.
1,000+ atomic swaps were made on October 31, thanks in large part to the community swapping Rick and Morty themed test coins during the event. Komodo Twitter also received a lot of engagement, with 800+ retweets on one tweet. We look forward to hosting more community events like this in the future.
Komodo Internship Program Graduation
From August 1 to October 31, Audo ran a community-building internship program. 7 interns learned about the project and contributed to Komodo in many ways, from leading discussions on Discord to managing social media campaigns to creating the foundation for our new community structure.
We are looking forward to more Komodo internship programs in 2021, including plans for a junior developer program. These initiatives are paving the way for ecosystem growth and will be a major emphasis for Komodo through the next couple of years.
Komodo In the Media
Cryptowid AMA
Audo and Charles participated in an AMA with CryptowID for a Telegram group of 21,300+ members. CryptowID provides crypto news for the Indonesian community. This was a great opportunity to answer questions about Komodo and to showcase where AtomicDEX is going. Terimakasih untuk AMAnya!
Decrypt Commentary
Jason provided commentary about how Bitcoin is being impacted by the rise of Ethereum-based DeFi projects in Decrypt's Q3 2020 DeFi report. Read the full report here.
Crypo Rich Feature
Crypto Rich covered the Komodo Q4 2020 roadmap in a recent YouTube video. Check it out here.
Band Announcement Coverage
The Band Protocol integration featured above was covered by Aithorty and Altcoin Buzz. It was also syndicated by Newsbreak.
Community News & Updates
Komodo Community Meme Contest
The Komodo community ran a meme contest on Twiter. Congrats to the winners! Be sure to follow the community Twitter account to find out about more community news and events.
Komodo Unofficial Podcast
Another episode of the Komodo Unofficial podcast is now available on YouTube. This episode features BT from Cryptoken — a provider of distributed financial analysis tools. The conversation focuses on how Cryptoken can provide better crypto market data, why AtomicDEX is true DeFi, and how Komodo's blockchain/ UTXO custom contract technology provides a unique solution for launching self-sovereign blockchains.
Pirate Chain Mobile Wallet Update
Pirate Chain Skull Island Mobile Wallet v2.0 is live. Find out more about it here.
Verus Mobile Wallet Update
Verus Mobile v0.2 is available now. This version added support for ETH and ERC20 tokens, integrated biometric authentication, and implemented VerusPay v2 for custom PBaaS currency invoices.

We want to hear from you — the community. Have ideas, feedback, or questions? Please let us know. Join us on Komodo Discord, and let's start a discussion.
Thank you for reading this month's edition of the Komodo newsletter! Don't forget to try AtomicDEX v0.3. Store assets in the non-custodial wallet and make cross-chain trades via the atomic swap platform.
Download AtomicDEX