We attended the Binance Blockchain Week in Paris to increase overall Komodo and AtomicDEX awareness.
To represent us, we flew our CTO Kadan Stalemann (on the right) and COO Tony Lysakov (on the left) to the event.
Updates!
Here's what happened.
We attended the "Opening Fireside Chat" with CZ and Jean-Noël Barrot, the French Ministry for Digital Transition and Telecommunications. A lot is happening in the regulatory landscape, and Binance seems to be on top of industry standardization, legal frameworks, et cetera.
We met a few Binance Angels, and we understood that no one (literally) is aware of AtomicDEX and its capabilities. So we will keep working on raising awareness and spreading the word. Then, once we reach our next milestone (towards the end of the year), we can start ramping things up and boosting the DEX action.
The ones we pitched/presented AtomicDEX to were fascinated and curious – they will spread the word for us!
Ca333 met with a few old friends and contacts from the Binance ecosystem, and we are exploring collaboration opportunities.
We also met VERY interesting project founders who are part of the Binance Labs Incubation program and learned a lot about these areas.
The event ended with the "Binance Super Meetup" event, a chance for further networking to raise awareness around KMD and AtomicDEX. We especially highlighted our comprehensive protocol support (specifically BNB/BSC).
There were a few interesting performance acts (5AM & lil Bubble) and, last but not least, a closing keynote from Binance co-founder He Yi, which was quite emotional & dynamic.
P.S. Food in Paris was delicious!
Photos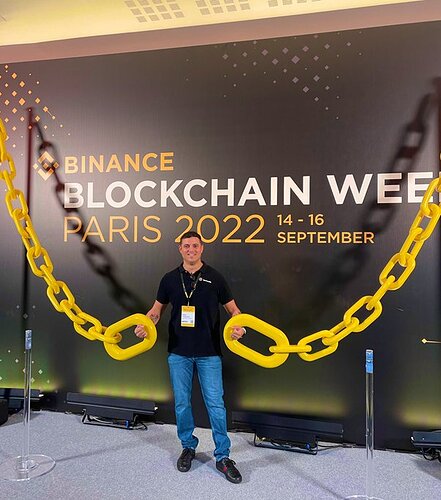 We said hello to CZ!



Altcoin Hassan with Kadan and Tony



We also spotted Justin Sun
Binance angel builder Ribka with Kadan
Sheeraz Hasan and Kadan
Our Conclusions
Overall we made many new contacts and friends, gained new followers, and collected a lot of knowledge. We will participate in future Binance/BNB events as they provide great strategic opportunities. We do consider the participation a BIG success.